Rmcarvalho
REITs rose ahead of earnings season on the back of forecasts of solid quarterly results, despite rising inflation expectations.
Recent reports have supported the sector, which has also attracted sentiment.
M&A activity picked up in Q2 after 2 slow quarters, with 4 REIT merger deals totaling $24.27 billion announced during the quarter, a report by S&P Global Market Intelligence show.
7 publicly traded US REITs and 1 Canadian REIT declared dividend increases in June, based on other Market Intelligence reports.
The FTSE Nareit All Equity REITs index is up 2.56% over the past week, compared with the broader S&P 500 index which ended 2.42% higher.
Mortgage REITs increased 4.43%, while the real estate index rose 2.65%.
The self-storage, industrial and data center subsectors were the biggest gainers this week, having gained an average of more than 4%.
Hotel REITs were the main drag, having fallen 1.11% from last week. The subsector's top-line growth rate is likely to remain muted and cost growth pick up, which will see margins drop by another quarter, Baird's Equity Research report said.
The following shows the performance of the subsectors: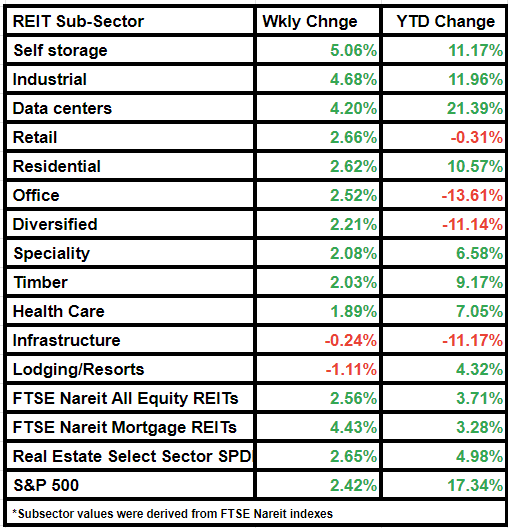 Which REITs to watch:
Generally on REITs:
REIT Capitalizes on the Taylor Swift Era Tour The REIT Mousetrap: Where's The Cheese?